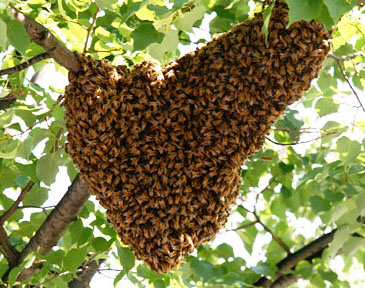 If you find a swarm of bees, here are several options for honey bee swarm removal in Lancaster County, PA. Many beekeepers, would be would be glad to remove your swarm of bees for free and give them a new home.
Elizabethtown/Bainbridge Area: Call or text Jared Garber at 717-435-0166
For other locations: Click Here.
Please don't attempt to kill your honey bees as bee populations across the U.S. are in decline.  Bees are very important for many agricultural crops.  There's a beekeeper out there that would love to have your honeybees.
If you have any questions about bee swarms or bee removal just call or text me at 717-723-9070.
*Important Note: We only capture swarms.  If there are bees inside a structure that have already built comb, you will need to find a beekeeper that does a 'cutout'.  Read below and see the photos to make sure you have a swarm of bees before calling.  Thank you.
Here are some more photos of what swarms of honey bees look like.  They are usually very calm when in a swarm.